"I had been keywording one photo at a time and really dreaded the process. After I got IIT and the thesaurus, I did 300 images in about 5 hours total time over 2 days. And most of this was putting related images in their folders."

Glenn Zumwalt Fotografy
AGE, Alamy, SAA, EP
The Controlled Vocabulary Keyword Catalog (CVKC) is ideal for creative pros that want a thorough set of terms for keywording images for use in their choice of a number of top metadata annotation tools. Version 3.0 contains approximately 11,000 keyword terms organized in a hierarchical structure with segregated synonyms. A broad range of people, lifestyle, and concept themes are included. The use of the CVKC insures consistency in the selection and spelling of specific keyword terms and helps guide the keyworder to appropriate synonyms.
There are versions that are now available for many professional metadata applications, such as Aperture 1.5 (from Apple), Breezebrowser 1.5-1.7 (from Breeze Systems), FotoStation (from FotoWare), Image Info Toolkit (from BlueBox), iView Media Pro 3 or Expression Media (from Microsoft), Lightroom 1.1 (from Adobe), Photo Mechanic 4.5 (from Camera Bits), and StockView 5.5 and METAmachine (from HindSight Ltd.). See the main CVKC products page for details on all the new additions.
The subscription version of the Controlled Vocabulary Keyword Catalog can be imported into all current versions (mac or windows) of the Image Info Toolkit (separate purchase required). If you'd like to see how the catalog works there is a sample set of the CVKC terms that you can download for testing purposes with Image Info Toolkit. In addition there is a short Quicktime movie that shows how you can use the Image Into Toolkit Keyword Catalog and the CVKC as a "keyword generator."
Both BreezeBrowser and Photo Mechanic come with a sample set of the CVKC already installed (note: it is not recommended that you attempt to install these samples into applications for which they were not intended). All subscribers are given access to any version without additional fees. The version you choose to purchase will be sent with the instructions on how to import or install the CVKC into that chosen application. You are free to try a another version with a different application if you wish.To request a sample of the CVKC, which contains a portion of two of the more than 20 top level hierarchies available in the full version, simply send email using the address on the Contact page and indicate which product. Samples are currently available for Adobe Bridge, Adobe Lightroom, Apple Aperture, Expression Media, and Foto Station.
Version 3.0 contains approximately 11,000 terms organized in a hierarchical structure and includes the full IPTC Subject, Scene and Genre codes. Current Image Info Toolkit versions include the ".ekw" (english keyword) catalog for use with Image Info Toolkit. Other versions are based around a tab-delimited text file that can be opened in a spreadsheet program (like MS Excel), any relational database (such as MySQL), or imported into (mac or windows version) of StockView 5 from Hindsight Ltd (for details see the StockView page), BreezeBrowser Pro, or FotoStation Pro (these programs must be purchased separately). For detailed information on how to install the CVKC into your chosen application see the Support page.
The 27 top level hierarchies can be seen in this "composite" screen capture.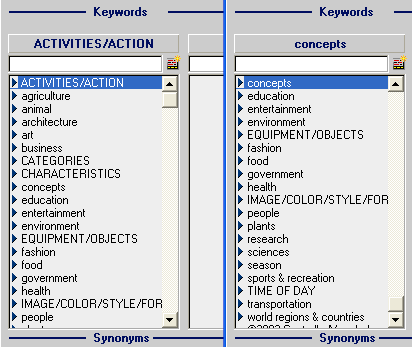 Information on how to download your copy of the CVKC will be sent automatically to the email address you have provided, within 24 hours or less after payment is received*. Included in that message will be a URL, along with a username and password. Please store this information in a way that you can find later as you will need it to retrieve updates.