The subscription version of the Controlled Vocabulary Keyword Catalog (CVKC) contains a tab-delimited text file that can be converted and imported into (mac or windows) of Stockview 5 from Hindsight Ltd. (the StockView program must be purchased separately). Version 3.0 contains approximately 11,000 terms organized in a hierarchical structure and includes the full IPTC Subject, Scene and Genre codes.
Once imported, the hierarchy is crunched to match StockView's three levels for the Cross Reference file. A click of a button and the imported data is inserted into the Cross References file. You have the choice of having it replace any existing Cross References in the file or having the new words added to your own list.
The Controlled Vocabulary Keyword Catalog Converter is free for owners of StockView 5. It's incredibly simple to use and utilizes a new interactive help system. It's a whopping 5K so will only take mere seconds to download from the HindSight website.
Download the Windows cvkc converter from: ftp://ftp.hsltd.us/hindsight/win/cvkc.zip
Download the Macintosh cvkc converter from: ftp://ftp.hsltd.us/hindsight/mac/cvkc.sitx
The tab-delimited text file can also be opened in a spreadsheet program (like MS Excel), or any relational database (such as MySQL) prior to conversion or import into StockView if you wish to make adjustments. In addition, this same CVKC version includes, at no additional cost, a proprietary ".ekw" (english keyword) catalog file that works with the Image Info Toolkit software.
A sample screen grab of the StockView Cross References dialog.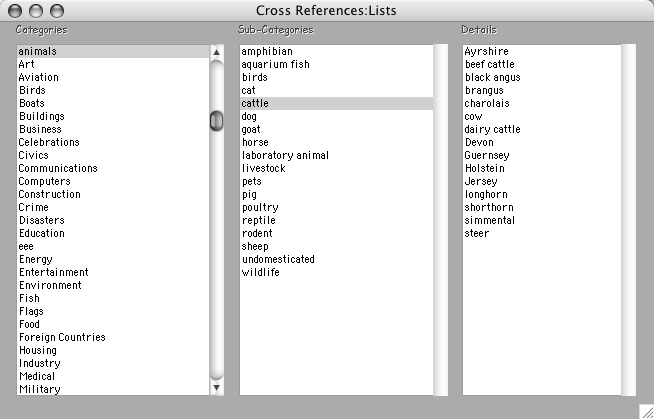 .